The hubs almost fell off the chair while eating this one…It's so good.  I love chicken, it's so versatile and quick cooking.  I love to have 101 chicken recipes up my sleeve.  Check out this fail proof method to bring your kids to the table.  Only two of mine eat the mushrooms though, but I keep trying!
1/4 c  flour for coating
S&P
4 skinless boneless chicken breasts pounded thin
2 T olive oil
2 T butter
8 oz container baby bella mushrooms quartered
3/4 c Marsala wine
1/2 c chicken stock
In a shallow bowl mix together the flour and season with S&P. Coat chicken pieces in flour mixture, set aside for about 10-15 minutes.
Set a large skillet over medium high heat. Melt butter in oil over medium heat. Place chicken in the pan, and lightly brown each side, about 4 minutes each. Remove chicken and set aside under some tin foil to keep warm.  Add mushrooms to the pan and season with S&P. You can add a bit more olive oil if it's looking a bit dry.  Pour in wine and allow the alcohol to cook out for about 2 minutes.  Add chicken stock. Bring to a boil and then knock it back to a simmer.  Slide the chicken back in and allow to simmer for 8-10 mintues.  Serve over pasta or potatoes.  Make a lot.  This is a hit!
What is your go to chicken dish this summer?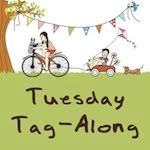 Related posts: